Devon Social Group – The Social Group – Social Group Holidays

SOCIAL EVENTS IN DEVON!
Join in, meet people, have fun, make friends, and enjoy a great social life!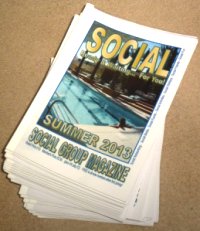 SOCIAL GROUP MAGAZINE
SUMMER 2013 ISSUE
DEVON EDITIONS
* NOW AVAILABLE *
Lists full details of events until November!
Free to all new members!
Hot off the presses – now being printed!
If you are waiting for a copy, it will be in the post shortly…
SOCIAL GROUP HOLIDAY TO CRETE, SEPT 2013
ANYONE ELSE WANT TO GO ON THIS?
NICE GROUP ALREADY BOOKED!
HURRY – LIMITED AVAILABLITY!
IF YOU FANCY TAKING PART, SEND PAYMENT THIS WEEK!
Click here if you would like to request further CRETE HOLIDAY details by email
MEMBERSHIP – JOIN THIS WEEK FOR LESS!
CLICK HERE for REDUCED PRICE MEMBERSHIP!
ENJOY A GREAT SOCIAL LIFE IN 2013
Join Devon Social Group! Enjoy good company and good times! Devon Social Group is the social enterprise at the heart of the community! Getting out and socialising with people is good for you! Join in! Have fun! Get more out of life! For what's on in Devon and to enjoy a great social life, give us a call today!
Devon Social Group – Devon's Number 1 Socialising Organisation!
The Social Group – Social Events, Dining Out, Parties, Activities, & Socialising!
Social Group Holidays – UK Party Weekends & International Holidays!
GREAT VALUE MEMBERSHIP
Membership of Devon Social Group is outstanding value – offered to you for less than one cup of coffee a week! There's all kinds of social events to choose from! Plus, exclusive SOCIAL GROUP MAGAZINE – all new members are sent a copy of 'SOCIAL' and a copy of 'EVENTS' for FREE!
CLICK HERE TO SAVE ££'s ON MEMBERSHIP!
WITH AN AMAZING PROGRAMME OF SOCIAL EVENTS TO ENJOY,
WE ARE ABOUT TO CELEBRATE 10 YEARS OF SOCIAL ENTERPRISE!
FEATURING SOME OF THE BEST FROM THE LAST 10 YEARS.
DINING OUT! PARTIES! ACTIVITIES! DAYS OUT! WEEKENDS! HOLIDAYS!
SPECIAL CELEBRATIONS CULMINATING IN A BIG PARTY IN APRIL 2013.
IT'S A GREAT TIME TO JOIN AS A MEMBER!

The Social Group started in 1997, first operating as an informal "group of friends".
In Spring 2003 we founded Social Group Enterprises Ltd. to run the organisation on a professional basis, with full-time staff to look after you and work on organising a great social life for you!
We now offer a fabulous programme of social events and you can enjoy a social life fit for a celebrity, at a fraction of the cost!
Have fun! Meet people! Make friends! Enjoy a great social life!
Social Events. Dining Out. Drinks Evenings. Nightlife. Live Entertainment. Parties. Balls. Murder Mystery. 1920′s Party. 007 Party. Themed Events. Days Out. Visits To Attractions. Indoor Leisure. Outdoor Activities. Adventure Sports. Walks. Guided Tours. Party Weekends. International Social Group Holidays.


DEVON SOCIAL GROUP
- professionally organised social events
- a wide choice of events on offer to choose from
- years of expertise in organising socialising
- we will encourage you to enjoy your life
- discount for Social Group members
- Social Group Magazine for Devon North
- Social Group Magazine for Devon South
- Devon Social Group website www.devonsocialgroup.com
- extensive social media online content for Devon Social Group
- Devon Social Group Twitter @DevonSG
A lot of work has gone into upgrading Devon Social Group, what we offer, how everything works, and how it's all presented. Most people seem delighted with all the improvements. Thanks for all the positive feedback everyone!
We have some amazing events coming up. Don't miss out on all the fun you could be having. Sign up and join in!
There's a few basic listings of some of our next events on this web site. Please see Social Group Magazine for full details and how to qualify for discounted prices! If you need any assistance, just give us a call! As always, please book early!
MAKING FRIENDS
If you live in Devon and want to have more friends and a better social life, this is for you! Devon Social Group is Devon's biggest "group of friends"! You are invited to join us! We offer great value events where there are people to join in with! With a great sense of camaraderie and fun!
It can be really hard making new friends – but we make it easy! Joining Devon Social Group gives you an instant new circle of people to socialise with. Sign up today and we'll get you started straight away!
GOOD TIMES! GOOD COMPANY!
Life is not a rehearsal! You have to participate! Enjoy yourself and make the most of your spare time – with Devon Social Group!
ENJOY A GREAT SOCIAL LIFE!
A ready-made 'group of friends' to go out with! A professionally organised events programme! Ideal if you are new to the area, think life should be more than just work-telly-sleep, or just looking for more to do!
THE BEST WAY TO MEET PEOPLE – AT AN AFFORDABLE PRICE!
DEVON SOCIAL GROUP IS GREAT VALUE FOR MONEY!
JOIN TODAY!
TELEPHONE 08456 121 770 OR SEND US AN EMAIL FOR A FREE INFORMATION PACK & JOIN FORM!
DEVON'S PREMIER SOCIAL ORGANISATION
Joining Devon Social Group offers the opportunity to have a fabulous social life at an affordable cost! We provide the people to go out with! We offer a fabulous programme of events to participate in! Giving you the opportunity to have fun, meet people, socialise, and find new friends! All the hard work is done for you by our professional team of organisers, and we do our best to find great value group discount prices!
SOCIAL GROUP ORGANISERS
Our dedicated team of organisers headed by Andrew & Cathy, have many years of experience in organising social events, dining out, parties, activities, and holidays.
Over the years Andrew & Cathy have enabled many thousands of people make friends and enjoy a great social life!
We offer a professional approach and take a lot of pride in the personal hands-on service we offer. We started all of this in 1997 and have operated as a "social enterprise" since 2003, so we must be doing something right! New members join every week – every effort will be made to help you feel welcome and included! You can see photos of our organisers on this web site, in Social Group Magazine, and on our social media pages, and you can telephone and chat to Andrew & Cathy, so we hope you will already feel you have made two new friends by the time you take part in your first Social Group event, and that make's it easy for you to get off to a good start!
Follow Social Group Organisers Andrew & Cathy via social media…
Andrew Haglington Twitter
Cathy Haglington Twitter
DEVON SOCIALISING
Devon Social Group – The Social Group!
If you have heard of "social networking", that's us!
It was us who first came up with the idea to name everything "social" when we invented modern-style social networking in 1997. Social networking is our idea. The use of the name "social" has been copied all around the world, but if it's named "social", it's all about The Social Group!
Devon Social Group is The Social Group!